August 18th - 27th, Festas do Mar at Cascais Bay
The only free summer festival in Portugal is back, and it's coming to a stage right by the Atlantic Ocean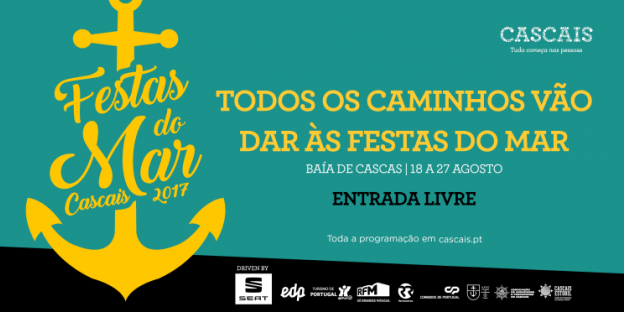 This year, the Festival in Cascais Bay has its best set ever, with names like D.A.M.A., HMB, Tiago Bettencourt & Carminho, Katia Guerreiro, Miguel Ângelo and Miguel Gameiro, Aurea, The Black Mamba, Miguel Araújo & António Zambujo, even Rui Veloso.
The Festival this year brings a diverse programme that goes from pop rock to fado, from symphonic to soul music. The opening show is left to the musical group D.A.M.A. and, from there on, the nights are long with the funk of HMB, the voices of Tiago Bettencourt & Carminho, Miguel Ângelo and Miguel Gameiro, the soul of Aurea, the cool style and passion of the music of The Black Mamba.
Miguel Araújo invites António Zambujo for a memorable duet while Rui Veloso will make "the whole bay sing". Fado, of course, is part of the Festival's DNA and comes through the voice of Katia Guerreiro.
During the last night, there will be an homage to one of the greatest bands of all time. The Cascais Symphonic, directed by maestro Nicolay Lalov along with The Bootleg Beatles, will interpret some of the greatest themes of the historical Beatles.
As always, at the end of the Festival, there will be the already traditional firework show over Cascais Bay.
---
Programme:
Friday 18 Pedro Vaz | D.A.M.A.
Saturday 19 Capitão Capitão | HMB
Sunday 20 Felipe Fontenelle | Tiago Bettencourt & Carminho
Monday 21 Joana Alegre | Miguel Angelo & Miguel Gameiro
Tuesday 22 NEEV | Aurea
Wednesday 23 Great Night of Fado | Fado by the Window (7:40 PM) | Marco Rodrigues | Katia Guerreiro
Thursday 24 Ditch Days |Miguel Araújo with António Zambujo
Friday 25 The Happy Mess | The Black Mamba
Saturday 26 Rogério Charraz | Rui Veloso
Sunday 27 Paulo Sousa | Cascais Symphonic with The Bootleg Beatles - Commemoration of the 50 year anniversary of the Sargent Peppers Lonely Hearts Club Band album
Concerts start at 8:30 PM|Fireworks: 27 August | Procession in honour of Our Lady of Navigators: 20 August, 3 PM