In Zagreb for a meeting
The Croatian capital is a charming, full of surprises destination, especially during the Festival of lights from 18 to 22 March 2020. Among new locations for meetings and events in Zagreb, the Hilton Garden Inn Zagreb deserves to be discovered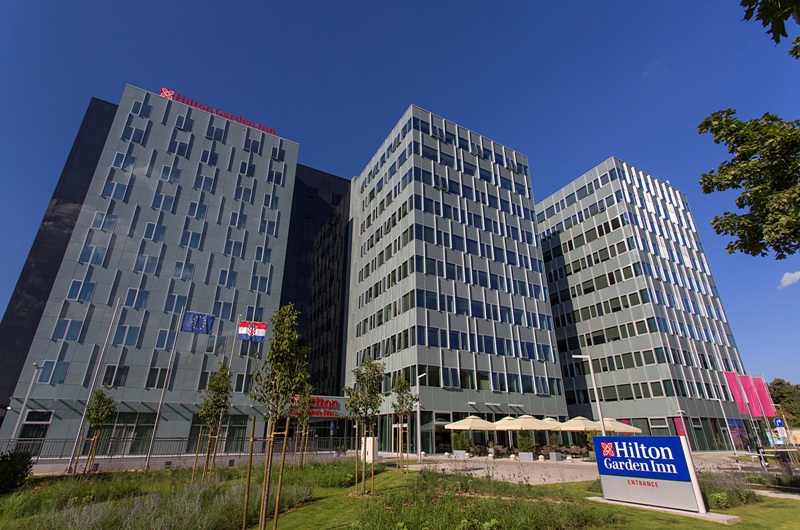 A few hours by plane from Italy, the Croatian capital is a destination with a diversified and high quality accommodation which offers fashionable clubs, museums and important mediaeval sites that are easily reachable on foot. For events organisers, just 20 minutes from airport, among the new locations for meetings and events in Zagreb there's a pleasant surprise: the Hilton Garden Inn Zagreb, a recently built hotel in business area, with a minimalist style, which is well connected with centre and main motorways.
A panoramic conference centre of 800 square metres
Hotel offers 153 spacious, comfortable and well furnished rooms of various types with king size beds, all equipped with Wi-Fi connection (connection throughout the facility), 49-inch TV with 50 international channels, kettle for tea and coffee, flat-iron and writing desk with ergonomic seating.
For meetings and events, at the eighth floor, there's the panoramic conference centre of 800 square metres, open 24 hours a day, it has 5 rooms with modular areas which are equipped with the most cutting edge technologies and a breathtaking view of city.
Breakfast is excellent with a nice selection of sweet and savoury local dishes. For business lunches and gala dinners, there's a high quality restaurant with menu of local and international cuisine. While at the ground floor bar of hall, you may relax by sipping a cocktail or experimenting well stocked list of wines and local beers. Supply is completed by a beautiful and equipped gym, an indoor swimming pool, a sales point where you may find original ideas for gifts with an excellent quality/price ratio, a garage and outside parking lot.
Zagreb among street markets, museums and broken hearts
Zagreb is a charming and lively destination during the Advent for coloured Christmas street markets, which are considered among the most beautiful and spectacular of Europe. In this period, that goes from the last week of November to after the Epiphany, boulevards, roads, parks, squares and cloisters in Hapsburg style are characterised by evocative stalls where it's possible to purchase typical pastries, warm wines and spirits to be sipped by walking and local handicrafts.
Among the city beauties you shouldn't miss: funicular ride up to old part of Zagreb where visiting the unique Museum of Broken Relationships, dedicated to all types of relationship, is a must or the visit to the Dolac, one of the liveliest open-air markets of Europe with its red umbrellas, for a pleasant full immersion among lively local population. Even the wonderful and award-winning structure of Horseshoe of Lenuci – a sequence of parks and squares which come in succession in the city centre – and, in order to see city from above there's the Zagreb Eye.
At the sixteenth floor of a skyscraper from the late fifties, overlooking Ban Josip Jelacic square, real focal point of city, gaze can wander at 360 degrees over splendid area, going beyond city boundaries. However, there are also numerous museums which open doors to meeting industry, such as the Mimara, with sumptuous interiors, the State Archives, among the most beautiful example of Art Deco in the country, or the Neo-Baroque Golden Hall, in Upper Town.
Thousand lights of Zagreb
From 18 to 22 March 2020 lights illuminate Zagreb. For five days the city will be spectacularly illuminated and iridescent in every corner, both in land and overhead, thanks to a wise and creative use of lighting area which will come out from museums borders to enlighten monuments and streets. In Zagreb the Festival of Lights, inaugurated in 2017, is currently one of the most popular attractions, a mix of art, design, architecture and entertainment which offers a never seen side of city to visitors.